The tragic death and suicide of the Anthony Bourdain this week is an eye-opener for some of us who want fame, wealth, and popularity at all costs.
Anthony Bourdain is an American celebrity chef, author, travel documentarian, and CNN television personality who starred in programs focusing on the exploration of international culture, cuisine, and human condition. He was considered one of the most influential chefs in the world by many commentators. He first became known for his 2000 bestselling book "Kitchen Confidential: Adventurers in the Culinary Underbelly".
To many people,  Bourdain had enjoyed all the fame and material rewards due to top celebrities idolized by millions of admirers. But only few people, most probably only his closest friends and relatives, knew what he had actually gone through in his private life. Since celebrities appear happy in front of TV cameras and usually secretive about their personal life, we assume that their being rich and famous is the ideal goal in life.
But things are not what they seem. What appears from the outside may not be from the inside.
The irony of public life is that the more people become popular to the public because of their extraordinary talents and abilities, the more they lose their freedom and ability to mingle around with the poor, ordinary people, and their fans without fear of being hurt and lowering their social stature. Many people aspire to be like Anthony Bourdain, Michael Jackson, Bruno Mars, and all other top celebrities because they are praised by millions of fans around the world. But they may not be fully aware that to be rich and popular implies moving more to your own private life and inner sanctuary to find peace and consolation with your loved ones and away from the noise of screaming fans. It also requires nurturing a strong social bonding with their inner circle of friends which can reduce the risk of committing suicide.
People's lives have two dimensions: The public and the private.
In the public sphere we project ourselves based on what our bosses, managers, or producers and directors, in the case of show business, who will tell us what to do in our jobs. The public arena is the stage of our public performance but the private sphere is our backstage where we return to our true selves and meet our own family and inner circle of friends, and relatives.
Life can be ironic. Anthony Bourdain and the rest of the celebrities may had appear happy with their fans and people who surrounded them, but in reality all that transpired could be just for the show dictated by directors, scriptwriters and producers. If Bruno Mars, for instance, could appear very happy singing in front of his adoring fans during his concert. But after that? He could return lonely to his hotel if he has no intimate and loyal friends and relatives who would support him outside his public performance. Robin Williams, another famous actor who committed suicide, could be indeed very funny and appear joyful to his fans in the movie or TV screens, but deep indeed as a private person he was lonely and hurting inside and longing for genuine love from people who surrounded him. But this seemed not his case when Williams once said: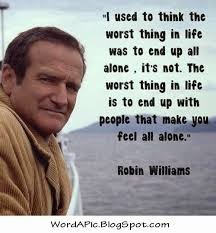 Anthony Bourdain's life was not easy. Although he was successful in his career part of life, he was a lonely man in private life. Before he became famous, he struggled against his drug addiction and alcoholism. He was a chef in a huge mega city of New York where social alienation is high. He was not also successful in his married life, being divorced twice. Research shows that men tend to suffer emotionally more than women after breakups or divorce. He probably hurting privately with all his past marital separations. Bourdain only has one child. If he has many children who are very supportive to him despite these divorces, he would not probably commit suicide.
Celebrities are actually lonely in front of "lonely crowd" during their public performances.  Loneliness would even be greater if celebrities do not have their own supportive inner circle of family members, close relatives, and friends who could console them in times of personal crisis and trouble. The social integration theory of Emile Durkheim states the level of social integration of people with their social groups is connected with the risk of suicide. The more people are attached with their social groups, such as family, peer, kin, or organization, the lesser is their risk of committing suicide. Communal support  can prevent depression and egoistic suicide.
Celebrities can be prone to depression and suicide if they have a weak social bonding with their social groups. Some rich and famous are able to manage stress and pressure in their public life as celebrities because they are able to maintain their strong bonding with their families and friends who provide a strong support system to their work and career.
Bourdain's death can provide us an important lesson: Life is not all about popularity and material success! Life is being and not having. Whatever blessings we receive in life must not hinder us from searching and pursuing a spirituality and finding the true meaning of life beyond material happiness. Bourdain became very busy after he became a celebrity that he found less time to enjoy life with his loved ones. In one of his interviews, he longed to be just a father to his daughter, to enjoy the moment of being just a dad, not a celebrity! Spiritual joy is therefore more lasting than material happiness! What makes smile in our journey to the next life is not our material success and popularity, but the joy and happy memories we have created with our loved ones and with people we care about.
Thank you for reading this post. Follow this blog for more updates.