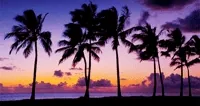 World-famous Boracay reopened on Friday six months after it was ordered closed by President Duterte for massive rehabilitation due to years of neglect, overdevelopment, and disregard for environmental laws.
The Boracay Island and its white sand beach were closed to visitors in April after President Duterte called it a "cesspool" tainted by raw sewage flowing from hotels and restaurants straight into the sea.
According to the Department of Philippine Tourism Secretary Bernadette Romulo-Puyat, the carrying capacity of Boracay should also be limited to 19,215 persons a day and 6,405 tourist arrivals a day. This will be strictly enforced after the re-opening.
The beautiful island of Boracay will be reopening for a "test run" on October 26, 2018, six months after it was closed down for partial rehabilitation. Here are some new rules about the "new" Boracay:
1. No Booking, No Entry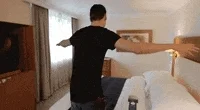 Tourists are now required to present their hotel booking when they get to the island. A verification booth will be set up in both Caticlan and Kalibo airports where officials will check the hotel bookings of tourists and make sure that they booked with accredited hotels. Department of Tourism has released a list of the 157 hotels that were allowed to be reopened. These hotels are those that have successfully acquired the required permits to operate on the island.
2. Easement 25 meters plus 5 meters.
No structures are allowed 25 meters away from the beach as well as the 5 meters easement in front of resorts and establishments.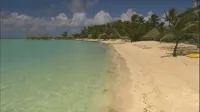 3. Promote Green Buildings
4. No Casinos

The government will also ban casino operations, while all water sports save for swimming are also banned for the time being.
5. Follow Ordinances and Environment Laws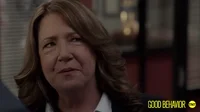 Boracay now has a total of 200 new lifeguards are now ready to serve swimming guests after undergoing intensive training under the Philippine Coast Guard (PCG).
6. Only Accepts Tourists within the Island's capacity of 19, 215 at a time or 6,405 tourists a day.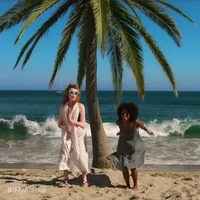 7. No Big Parties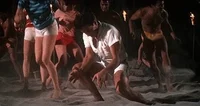 8. No Smoking and Drinking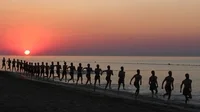 No smoking and drinking in public areas. You're still free to drink or smoke in the confines of resorts, however!
9. Ban of Open Fires and Use of Kerosene Gas/Fuel From the previous 4 to 5 meters, the whole stretch of the road is now 12 meters-wide with walkway, according to the Department of Public Works and Highways (DPWH) Secretary.
GIF Credits: Giphy.com
References
Philippine Star (24 Oct 2018). Infographic: New rules for Boracay reopening. Retrieved from https://www.philstar.com/headlines/2018/10/24/1862824/infographic-new-rules-boracay-reopening.